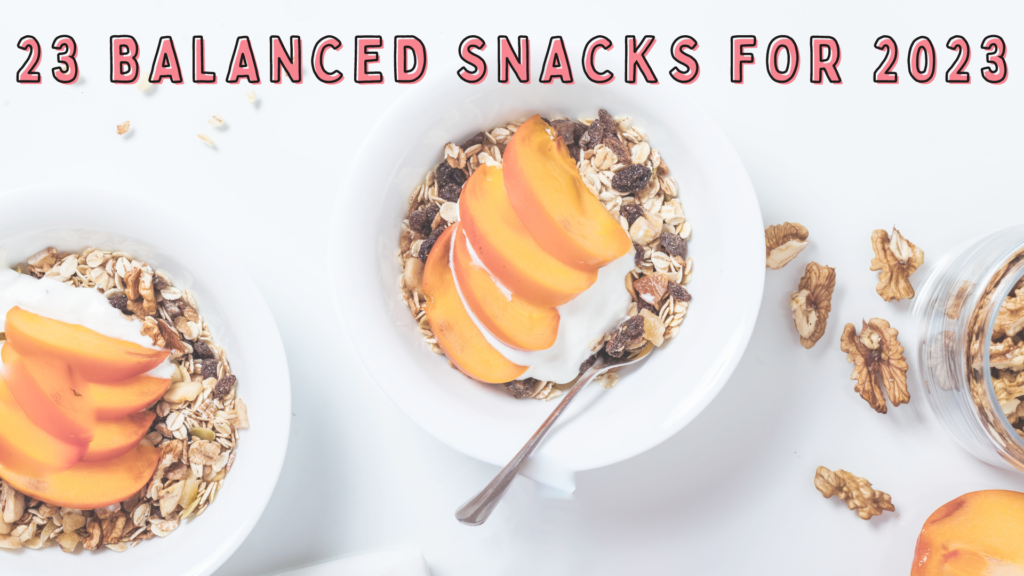 23 Healthy Snacks for 2023
Snacking! I have to admit I do love good healthy snacks, and it's something people ask the dietitians at the Kansas City Dietitian Collective daily! However, if I don't have a healthy snack that is balanced and readily available, snacking can very easily become, me, standing in front of the pantry or fridge, grabbing random things, or grabbing a candy bar at the check out. This may give you or me energy for a short period after eating it, but this will quickly lead to a crash in energy and the cycle will go on. Prepared balanced healthy snacks are a lifesaver when it comes to those exact situations. They will not only save you from the cycle of energy crashing, but they will keep you satisfied until your next meal.
What is a balanced snack?
Balanced healthy snacks consist of protein, fat, and fiber. This combination is the perfect balance to stabilize your blood sugar, sustain energy, fullness, and satisfaction. The protein source works as providing a sense of fullness. Fat works as boosting satiety. Lastly, fiber and/or carbohydrates is a two in one (if you pick a carbohydrate that has fiber, which is what we want)! Fiber slows down digestion, keeping you full for longer. It also helps regulate blood sugar and aids the absorption of nutrients. Last but not least, carbohydrates provide energy. Here are 23 balanced healthy snacks for 2023.
Grass-fed mini beef jerky snacks and blueberries
Pistachios and string cheese
Greek yogurt, chia seeds, and strawberries
Peanut butter and an apple
Cheese and high fiber crackers (at least 3 grams of fiber) we like Triscuits and Nut Thins
Plain Greek yogurt with a ranch packet in it and celery
Banana, almond butter, and hemp seeds
Hard boiled eggs and fruit
Hummus and veggies
Cottage cheese and fruit or veggies
Canned tuna with veggies/crackers
Chia seed pudding and berries
Cottage cheese, guacamole, and veggies
Deli turkey, cheese, and spinach roll up
Avocado on a rice cake topped with Everything but the bagel seasoning
Greek yogurt with powdered peanut butter and apple slices
A Kind bar and fruit
Guacamole and crackers or veggies
Cheese and fruit
A pear, pistachios, and cheese
Turkey Deli Meat and an orange
Homemade muffin and peanut butter (or we like the Veggies Taste Great Muffins for a quick option)
The list goes on! It becomes a really easy habit to piece items together for a healthy snack when you do it a few times. They are really easy to pack and bring on the go as well. Grab a container and place all the items in it and stick it in your bag to bring with you for the day! This way when you are in the car on the way home from work, or sitting in the airport you will always have a healthy balanced snack.
Eating balanced snacks not only helps curb your appetite to prevent overeating at the next meal, but they also provide nutrients that our body needs to function optimally. A little prep can go a long way. Here are a few of our favorite snack recipes:
Savory Healthy Snacks Recipes: 
Sweet Healthy Snacks Recipes: 
Freezer Meal Prep Class
If you need inspiration beyond snack-time be sure to join us for our next Freezer Meal Prep Class.