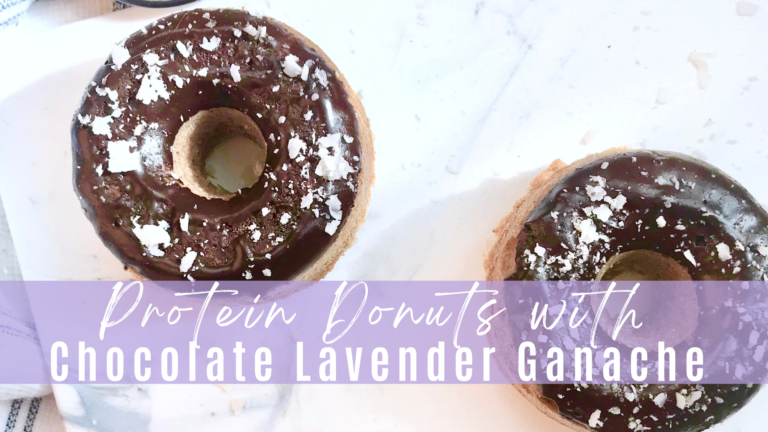 If you read my last post, you know that my life lately has been all about Magnolia, with my trip to Waco, the silo's half marathon, and getting the Joanna Gaines' cookbook for my birthday. I decided to follow up that post with one along the same theme. During my Waco trip we visited the Magnolia Table restaurant, and tried Joanna's Lemon Lavender Donuts. Let's just say I wasn't disappointed. I already knew that I loved lavender for it's therapeutic aroma, but didn't have a lot of experience with it's culinary uses.

Lavender seems to be just the thing to, with one simple ingredient, elevate a food from something you'd get at a gas station to a culinary delight. Or to put it another way it takes your 99 cent donut experience to 5 dollars a pop. I couldn't imagine a better way to celebrate National Donut Day then with a lavender infused donut delicacy. Unlike it's "typical" donut counterpart this recipe is gluten-free, dairy-free, low in sugar, and high in protein. With almost 10 grams of protein per donut, you are sure to find it satisfying.
A few notes about baking with lavender
Lavender (at least in Kansas) is typically found in specialty foods stores like Whole Food's in the dried spices and herbs section. You may also find fresh lavender at a farmers market, that you can dry and then use. Make sure to buy culinary lavender. Culinary lavender is a particular species of lavender that has the sweetest and most fragrant aroma making it great for use as a cooking herb. Lavender, used as a herb, is similar to rosemary, in fact it is often paired in seasoning blends with rosemary. I LOVE the flavor of rosemary but unless it is brushed on top of bread or chicken, I want to taste it, not see it. Lavender has a leaf structure similar to rosemary, that is best ground down either with a food processor or mortar and pedestal. A little of it goes a long way, and helps to bring out the rich flavors of the ganache and the subtle sweetness of the donut. If you don't have a donut pan you can easily make this yummy recipe into cupcakes, you will just want to watch the baking time depending on the size of cupcake tin that you use.
[/et_pb_text][/et_pb_column][et_pb_column type="1_2″][et_pb_image admin_label="Image" src="https://www.kansascitydietitian.com/wp-content/uploads/2018/05/IMG_5799-2.jpg" alt="Protein Donut" show_in_lightbox="off" url_new_window="off" use_overlay="off" animation="off" sticky="off" align="left" force_fullwidth="off" always_center_on_mobile="on" use_border_color="off" border_color="#ffffff" border_style="solid" /][/et_pb_column][/et_pb_row][et_pb_row admin_label="Row"][et_pb_column type="4_4″][et_pb_text admin_label="Text" background_layout="light" text_orientation="left" use_border_color="off" border_color="#ffffff" border_style="solid"]
Chocolate Lavender Ganache
Preheat oven to 350 degrees. Add eggs to a large bowl and beat well with a stand mixer or hand mixer.

Add in tahini, coconut oil, vanilla and maple syrup and beat together.

In a separate bowl whisk together both flours, salt, baking soda, and cinnamon.

Slowly add flour mixture into wet ingredients and mix just until combined.

Spray donut pan with non-stick spray. For best results, spoon batter into pan, or place batter in a large ziplock bag and snip off a corner to pipe batter into the donut pan.

Place pan in oven and bake for 15-18 minutes, or until a toothpick inserted comes out clean. Remove from oven and allow to cool for a few minutes before removing from pan.

Meanwhile, in a small pan add ingredients for ganache. Wish together over low heat until melted. Top donuts immediately. Note: If ganache is too thick, it has been cooked at too high of heat.

Top with optional ingredients such as sprinkles, or coconut flakes.
Lavender: Dried lavender needs to be ground down to a powder before incorporating into ganache, this can be done with a coffee grinder or other small processor.
[/et_pb_text][et_pb_image admin_label="Image" src="https://www.kansascitydietitian.com/wp-content/uploads/2018/05/High-Protein.png" show_in_lightbox="off" url_new_window="off" use_overlay="off" animation="off" sticky="off" align="left" force_fullwidth="off" always_center_on_mobile="on" use_border_color="off" border_color="#ffffff" border_style="solid" /][/et_pb_column][/et_pb_row][/et_pb_section]