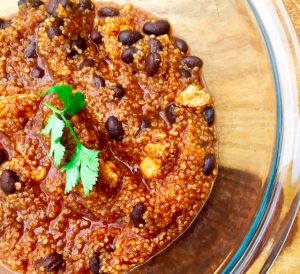 Our Recipe ReDux theme for February is Tacos! Everyone has a favorite taco recipe, but I'm pretty sure once you have tried my taco bowls you will be won over. Here's what my picky family had to say:
"This is the best Mexican food you've ever made."
What!?!? If that isn't a raving review I don't know what is.
Every time I make this I am shocked by how quickly it comes together. Since it does require some sit and simmer time, it's great for busy evenings of rushing off to do laundry or providing some homework help. You can add any of your favorite mix-ins but my favorites are: chicken, black beans, cheese, and cilantro. I have been known to add peppers or serve it over a salad. My family loves to eat it with a side of tortilla chips, but you could also wrap it in a tortilla. You get the point, this recipe is super versatile.
I will say the only bad part about this recipe… does't really photograph well. So trust me, it is delicious, send me your stellar remakes of it.
Heat oil in a large pan or skillet over medium heat. Add quinoa and stir until slightly browned. (about 2 minutes)

Add seasonings and stir fry for additional 30 seconds.

Add broth and tomato sauce. Bring to a boil and reduce heat to low. Cover and cook for 20 minutes or until liquid is absorbed.

Remove from heat and stir in chicken and beans. Cover and let sit for 10 minutes. Garnish with cilantro and cheese and enjoy!