This post is a collaboration with the Kansas Beef Council on behalf of the Beef Checkoff. I received compensation, but all opinions are my own. 
Healthy Meal Plan Checklist
I get asked all the time, how do I make a healthy meal plan? Most people think it has to involve a complicated recipe, expensive ingredients or, at the very least, must be a boring salad. I am here to tell you none of those are the case. My healthier steak fingers recipe is the perfect example. A healthy meal starts with a lean protein. In this case we are using tenderized round steak. It is tenderized so that even though it's lean, it won't be tough. Using beef for these fingers brings an unbeatable taste. Picking beef as your lean protein provides 10 essential nutrients and you never have to check the ingredients list because beef is just one simple ingredient.  To complete your healthy meal, just add a healthy fat and a fiber-rich carb. In this case we are adding ground flaxseed, which is both a healthy fat and a fiber-rich carb. Flax nutritionally provides a plant-based source of omega-3 fatty acids and acts as the gluten-free breading and gravy thickener for these healthier steak fingers.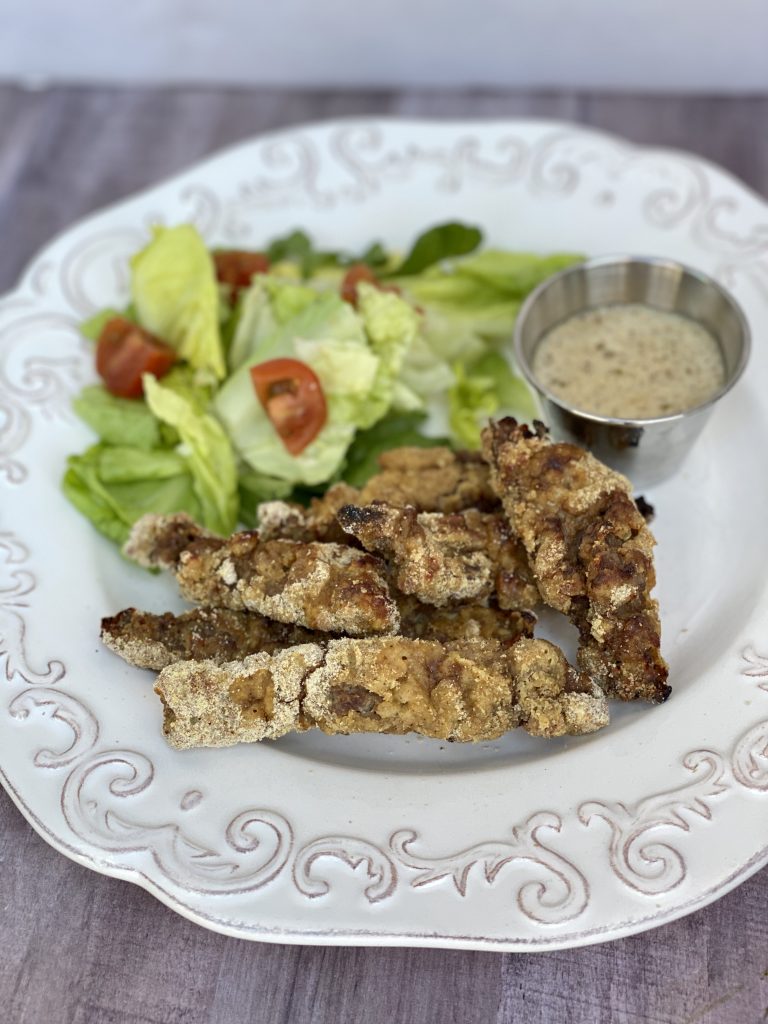 The Steak Fingers
Growing up, country-fried steak was one of my favorite meals. These steak fingers are my take on country-fried steak. Steak fingers are made by first dredging in a milk and egg mixture, then tossing in a coating of flour and spices. Most traditional recipes would then fry the coated fingers in oil. For my steak fingers we are using ground flaxseed as the coating, which means this recipe is naturally gluten-free. Then we skip frying them in oil and instead bake them. The end result? A delicious and healthy comfort food. If you are looking for more beef recipes, be sure to check out www.kansasbeef.org/one-simple-ingredient
The Gravy
No steak finger is complete without a little gravy. For this simple gravy we used ground flaxseed instead of flour and let me tell you, you won't miss it. This goes great as a dip for the steak fingers, or I like to put them on mashed cauliflower to get a veggie side in for my picky eaters.  My favorite flax is Manitoba. It has a two-year shelf-life and is the smoothest I have ever worked with, which makes it great as a steak finger coating or in a gravy.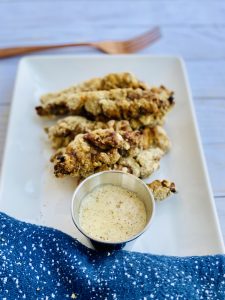 Healthier Steak Fingers and Black Pepper Gravy
Ingredients
1.5 -2 Pounds Tenderized Round Steak or Cube Steak
3/4 cup ground flaxseed
1/4 teaspoon dried chipotle chili (ancho or cayenne will work too)
1/2 teaspoon salt
1 teaspoon garlic powder
1 cup milk
1 egg
For Gravy:
1 cup milk
2 Tablespoons ground flaxseed
2 Tablespoons Butter
3/4 teaspoon black pepper
1/4 teaspoon salt
1/4 teaspoon garlic salt
Instructions
Preheat oven to 400 degrees F.
Line a cookie sheet with aluminum foil and lightly spray with non-stick spray.
Slice the steak into 1" fingers
Place flaxseed and all the spices in one shallow dish and mix well to combine. In another shallow dish whisk together milk and egg.
Dredge steak fingers in the dish containing the milk and egg, then in the dry ingredients. Put on the cookie sheet. Continue until all fingers are coated.
Bake in the oven for about 10 minutes, flip and continue cooking for 5 more minutes until slightly browned and cooked through. Optional: Broil for the last few minutes if you prefer a crispier coating. You can also try putting it on an oven-safe cooling rack to bake.
For the gravy: Melt the butter in a medium sauce pan over medium-low heat. Add flax, pepper, salt, and garlic salt, whisking constantly.
Slowly add in milk, whisking until it thickens. Serve immediately.
7.8.1.2
414
https://www.kansascitydietitian.com/2020/02/healthier-steak-fingers-black-pepper-gravy/
Find out more about the Kansas Beef Council and all they do to support Kansas farmers:
Instagram https://www.instagram.com/ksbeef
Facebook https://www.facebook.com/KansasBeef/
YouTube https://www.youtube.com/channel/UChKfCz9R5HHqw-jSzjM6AUw (where they have lots of recipe ideas)