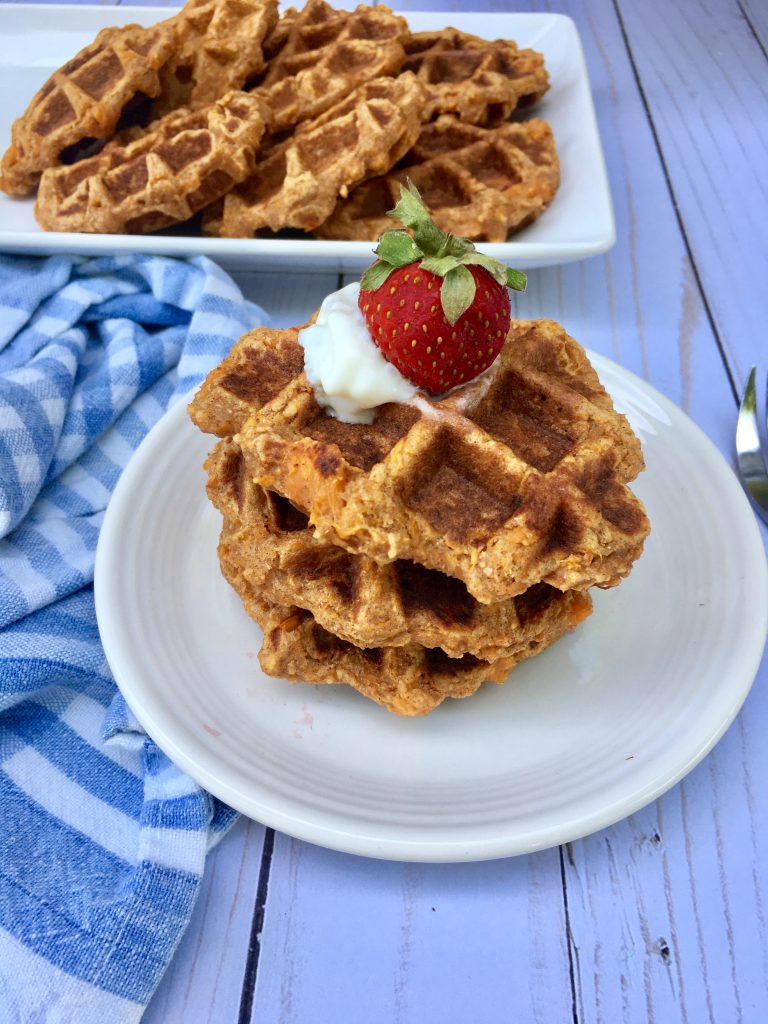 Breakfast is definitely a place of nightmares for a busy mom of a picky eater. We are solidly in the toddler-zone in my house. That means what was acceptable yesterday is not ok today.  My little picky eater loves waffles but I hate to clean them up. So I created this recipe that I can prep the whole batch at once and then freeze the leftovers.
This recipe includes 2 sweet potatoes, or about 2 cups of sweet potato puree. You can prep your sweet potatoes whatever way you prefer, but I prefer the quickest way possible. That means that I prep them in the microwave. These waffles also have no added sugar and lots of fiber with oat flour and whole wheat flour! This batter is really thick, so I recommend that you spray your waffle iron and only put a thin layer of batter in the waffle iron at a time to make sure they cook all the way through.
Tip: Make your own oat flour by pulsing old fashioned oats in a blender or a food processor.
Sweet Potato Freezer Waffles
Ingredients
2 Sweet Potatoes
3/4 cup milk of choice
1/4 cup oil
1 Tablespoon maple syrup
1 egg
3/4 cup whole wheat flour
1/3 cup oat flour
2 teaspoons baking powder
1 teaspoon cinnamon
1 teaspoon salt
Instructions
Poke sweet potatoes with fork and place in microwave for 5-8 minutes or until tender. Allow to cool and cut in half. Scoop out "meat" of sweet potato and place in a medium bowl. Blend with hand mixer, or mix with a fork until smooth.
Add milk, oil, maple syrup and egg to sweet potatoes and mix well.
In a separate bowl combine flours, baking powder, cinnamon, and salt.
Combine wet ingredients and dry ingredients and cook in waffle iron.
7.8.1.2
17
https://www.kansascitydietitian.com/2017/08/sweet-potato-freezer-waffles/