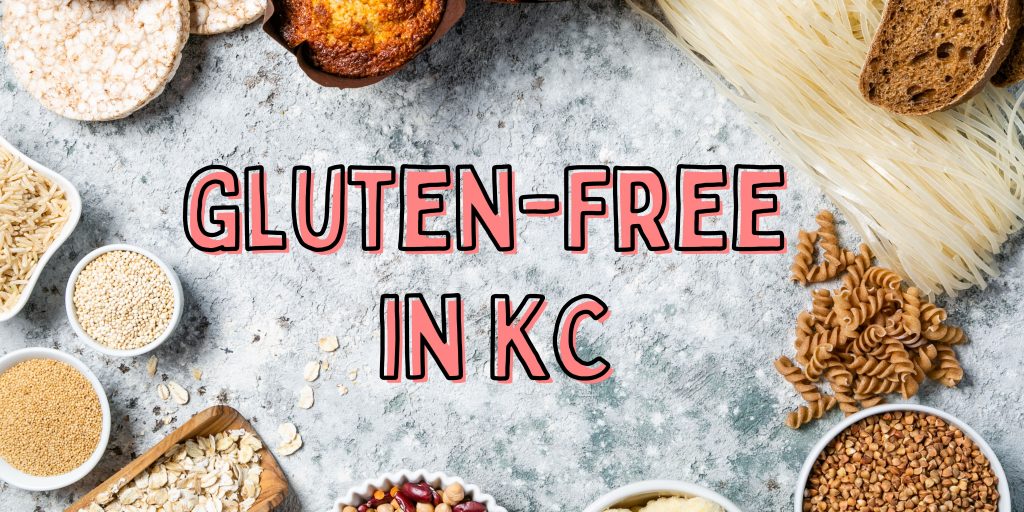 Whether you're trialing a gluten-free diet, have a family member with an allergy, or are a seasoned pro with Celiac, finding nourishing gluten-free food on-the-go can be a frustrating challenge. Fortunately, Kansas City has plenty of tasty options for all. You just need to know where to look. To help with that, we've put together a list of some of our favorite stops and shops in the KC area that offer an array of gluten-free Kansas City options for you or your loved ones—because living with dietary restrictions should never mean having to go hungry.

Burgers & More
Unforked | Kansas City, Overland Park
Offering lunch, dinner, and desserts, this local favorite supports seasonal, local ingredients first—favoring quality over all else. With a diverse menu offering many gluten-free options, Unforked is sure to be a favorite for the whole family. (Our current favorite? The "Thai Dye Burger" on a GF bun!)
Iron Horse Bar & Grill | Leawood
With an amazing outdoor patio, live entertainment, and open late—Iron Horse is more than your typical bar and grill. Their gourmet food is the real draw, with an entire dedicated gluten-free menu, tasty enough for anyone to enjoy. 
Joe's Kansas City Bar-B-Que | Multiple Locations
Who doesn't love Kansas City Bar-B-Que? A local tradition, gluten-free Kansas City eaters can enjoy some of the best BBQ in the city at Joe's, which features a gluten-free bun that can be substituted with any cut of meat. Make sure to specify your restriction with your server. 

Pizza
Spin! Pizza | Multiple Locations
Spin! was created by local entrepreneurs with world-class pizza, sandwiches, salads, beer, and wine in mind. With a menu crafted by a James Beard award-winning chef, it has become a true local favorite. The best part? They offer TWO different types of gluten-free pizza crust to choose from, and they're both delicious!
Minsky's Pizza | Multiple Locations
Not only does Minsky's make amazing pizza, but it has received GREAT Kitchens training from the National Foundation for Celiac Awareness. All employees are trained to assure the prevention of cross-contamination of any kind. Minsky's is a great choice for peace of mind for those with a strict intolerance.
A local favorite, Waldo Pizza has an entire dedicated gluten-free menu that includes tasty specialty pies with a unique twist. From the "Ratatouille" to the "BFD (Breakfast for Dinner)," we haven't found a gluten-free pie here that we don't like.
Stone Canyon Pizza | Parkville, Gladstone
Another great option for gluten-free eaters, Stone Canyon Pizza offers multiple options for gluten-free crust. With specials on a weekly basis and options other than pizza as well, it's sure to be a great choice for the whole family.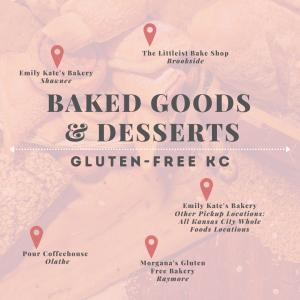 Baked Goods & Desserts
Morgana's Gluten-Free Bakery |Raytown
When Morgana was diagnosed in 1997, switching to a gluten-free diet was difficult. She remembers the first pre-made gluten-free bread she tried—and it tasted like Styrofoam. Taking matters into her own hands, Morgana opened up shop in Raytown with a mission to make gluten-free eaters feel normal. This store is currently preorder only with pick-ups on Saturdays, so be sure to place your order in advance. 
Emily Kate's Bakery | Multiple Pick-Up Locations
Born from a family with gluten allergies, this bakery is entirely gluten-free! From tasty cornbread to gorgeous designer cakes, Emily Kate's is a must-stop for gluten free in Kansas City. Since it is a custom-order bakery, make sure to check out their website and call ahead beforehand. 
The Littlest Bake Shop | Kansas City
The Littlest Bake Shop is Kansas City's first gluten-free & vegan dedicated bakery. With scratch-made, local and seasonal offerings and organic coffee and tea, it's sure to be a favorite for all- dietary restrictive or otherwise. Due to COVID-19, this bake shop is pick-up only on Fridays and Saturdays, but worth the planning. Visit their website to order- we recommend the six-inch churro cake (if you can snag one before they sell out)!
Pour Coffeehouse is the perfect stop for anyone looking to get some work done, mingle with friends, or just relax. Offering a dedicated gluten-free pastry menu in addition to traditional desserts, breakfasts, sandwiches,  coffees, teas, and more—the options at Pour Coffeehouse are seemingly endless. Their gluten-free pop-tart is worth the drive. Call ahead and place an order or drop in and hang out for a bit- you won't be disappointed!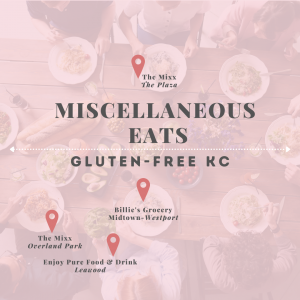 Miscellaneous Eats
The Mixx | Kansas City, Overland Park
This restaurant defines fresh in a hurry, with options for (just about) any dietary need. Everything is prepped from scratch and sourced with integrity. From soups and salads to quinoa bowls and wraps, you are sure to find a satisfying and nourishing gluten-free meal at The Mixx.
Billie's Grocery | Kansas City
Billie's Grocery is a "dietary and lifestyle-friendly" restaurant and bakery in the heart of Kansas City. They are especially accommodating for gluten-free diets. From smoothies to cocktails, a bakery that caters, and events and cooking classes throughout the year, Billie's-Grocery is a gluten-free Kansas City must-see. 
Enjoy Pure Food + Drink | Leawood
Seeing a need for healthier food in our on-the-go culture, Staci Cross, founder of Enjoy Pure Food + Drink, opened this restaurant to help keep KC nourished in the "cleanest way possible". With an emphasis on positive energy amongst the staff, and an effort to source local organic food as much as possible, this is a great stop for a variety of gluten-free, vegan, and vegetarian options.
Going gluten-free can be tough, but whether it's you, a friend, or a loved one, keep in mind that it gets easier—especially when you find accommodating places in the area that are both nourishing and delicious. Not to mention it can improve quality of life if dealing with an allergy or intolerance. Remember to always specify with your server or manager that you have an allergy or intolerance. 
New to cutting out gluten, and still have questions about what you can and can't eat, or suspect you may be suffering from a gluten or other food intolerance? We can help with that and more. Book with us for an in-person or online session today so we can get you back to feeling your best. Did we miss your favorite gluten-free spot in Kansas City? Give them a shout out below.