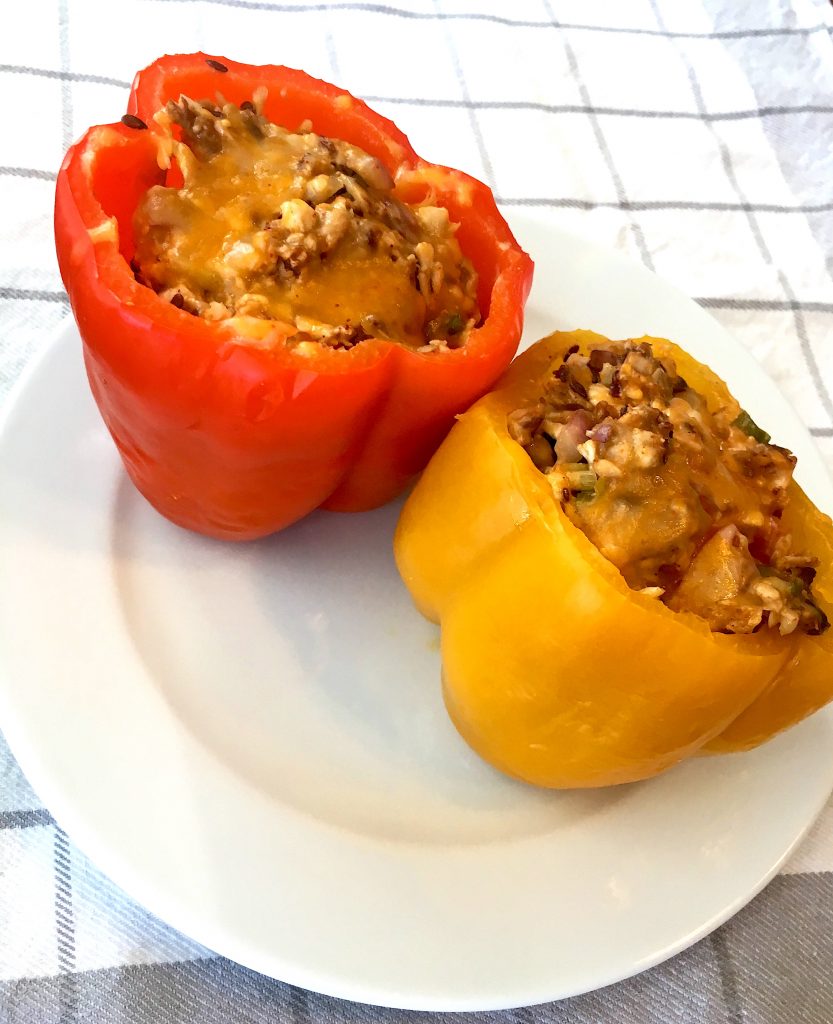 For our Recipe Redux this month we are talking about recipes that you can make without an oven, to keep cool through these long hot summer days.   Intern Abbi took on this challenge and developed this mouth-watering recipe for not just stuffed peppers, but veggie stuffed peppers. That's right, instead of traditional rice, or even trendy quinoa, this pepper is stuffed with cauliflower (actually cauliflower rice).
If you haven't experimented with cauliflower rice before you don't know what you are missing out on.
Why might you sub cauliflower for rice or other grains?
Mild taste complements other main dishes
Color and texture is similar to rice
Packed with glucosinolates, which are being studied for their use in cancer prevention
Lots of brands are now doing the work for you so that you can buy pre "riced" cauliflower. Intern Abbi likes to shred her cauliflower with a cheese grater, but the Kansas City Dietitian uses her trusty food processor for cauliflower bliss.
The only thing that I hate about using my slow cooker is the clean up! Since whatever I am cooking has had all day to cook into every crevice of the slow cooker, this recipe is the perfect match because the peppers make convenient bowls for easy clean up.
What are we waiting for, let's check out Intern Abby's recipe.
Slice the tops off of the bell peppers and remove seeds and veins.

Grate large chunks of cauliflower over a bowl, until the whole head resembles coarse rice. Squeeze out any extra moisture of the cauliflower by placing it in a paper towel or a cloth, if necessary.

Mix the veggies, flax seed, 1 1/2 cups cheese, and garlic into the cauliflower rice. In a separate bowl, mix together the ground beef and taco seasoning. Dump the ground beef mixture into the cauliflower rice mixture, and combine with your hands.

Divide mixture evening among the peppers. Pour 2 cups of water into a slow cooker, and turn it on to low. Then place the peppers into the slow cooker and cover. Cook for 4 hours.

30 minutes before you are ready to serve turn the temperature up to high. During the last few minutes of cooking, top each pepper with a remaining cheese.